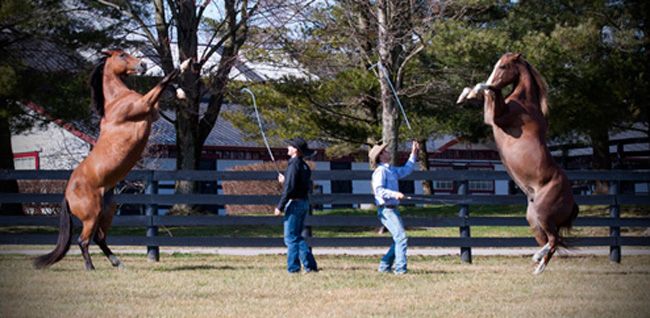 Double Dan Horsemanship

"The Double Dan Horsemanship team has a tough job keeping horses clean, with baths on an almost daily basis, Dan Steers and I began looking for a grooming product line that was safe for our horses and made them shine under the bright lights in their performances. We were introduced to the Espana SILK line of all natural grooming products and have had amazing results. Steers and I may not be able to agree on which products are our favorite, I love to use the SILK Natural Protein Waterless Shampoo for touchups before clinics and performances while Steers likes the SILK Natural Protein Detangler for the UV Protection it provides, but we can agree that Espana SILK products are truly made from the finest and safest ingredients available. We wouldn't want to use anything else on our horses." Dan James
Dan James
Road to the Horse Champion 2012
Double Dan Horsemanship
www.doubledanhorsemanship.com
Find us on Facebook
---
About Dan James:
Born in Queensland Australia on a small cattle farm, Dan James, first began his lifelong passion with horses at six weeks old. The family milking goat would suffice until he got his first pony. Starting his first colt in his early teens sparked his hunger to understand more about the horse's thinking patterns. After studying at Longreach Pastoral College, James began traveling the world to gain a better understanding of horses. James first traveled to Hokkaido, Japan to start horses, then Celina, Texas working for cutting horse trainer, Punk Carter, and back to Australia to work on a cattle station in Western Australia. It was on this ranch that James met his Quarter Horse stallion, Ari, and Stockhorse mare, Amelia.
In 2008, James joined his good friend, Dan Steers, in Western Australia at El Caballo Spanish Horse Centre where they performed together each weekend in the "Dan and Dan Show" developing their horsemanship techniques. In 2009, Steers and James relocated to New South Wales and Double Dan Horsemanship was born leading both young stars down the Pathway to Liberty.
In 2008, James was recognized as a world class colt trainer when he won the "Way of the Horse" at Equitana Asia Pacific. In 2012, James wowed judges again with his incredible training techniques winning the coveted Road to the Horse International Colt Starting World Champion title.
James continues to push the limits of horsemanship and entertainment with eye-opening clinics and exhilarating performances. Helping horse enthusiasts expand their knowledge and understand for the Love of the Horse.